Jen Volkodav Jewelry Design In The News
During her 13 years in business, Jen Volkodav Jewelry Design has been featured in the news, at the Golden Globes, in influencer articles and blogs and worn by celebrities. Below are some of the highlights: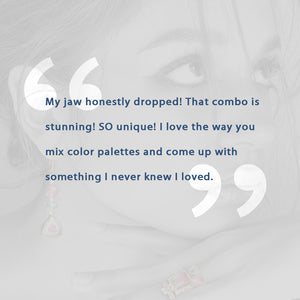 I am here for you every step of the way
"Using creativity and excellence to make you the envy of the crowd with jewelry no one else will have."
Each piece I create is one of a kind, and embodies part of my heart and soul, and that doesn't stop when the piece is finished and I've put it on my website.
I know that the online world makes the "see, touch and feel" experience difficult. My goal is to eliminate any fears you may have about making your purchase here.
I love developing a personal relationship with my collectors and customers. I enjoy our conversations and collaborations. I am happy being your one and only contact from beginning to end. I not only strive to, but look forward to, providing you with the ultimate service and customer care and alleviating any reservations you may have about purchasing my art online. Please email me, ask questions, ask for more photos and videos or have me or my daughter try on a piece for you to see!
I can genuinely say that many of my collectors and customers have become friends that I enjoy keeping in touch with.